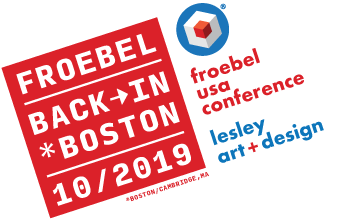 2019 Froebel Conference — Oct. 5-6 in Boston, MA
Partnering with the Lesley University School of Art + Design, our next conference is October 5-6, 2019 in Boston, MA. The theme of this training event is "Back in Boston," where the original Kindergarten Movement began. Attendees will experience hands-on exploration of Froebel Gifts and Occupations guided by teachers who have integrated these methods/materials into public, private, parochial and home-school K-12 educational classrooms.
EARLY BIRD RATES THROUGH MARCH 31, 2019
CLICK HERE to REGISTER NOW
PRESENTERS:
Barbara Beatty — "Early Kindergarten Pioneers in Boston"
Julie Bennett — "Froebel Gift Play Techniques"
Norman Brosterman — "Kindergarten: The Lost World"
Scott Bultman — Preview of The Garden of Children documentary film series
Alicia Carroll — "Early Childhood STEM"
Tiffeni Goesel — "Connecting the Froebel Gifts"
Kristina Lamour Sansone — "Rhoda Kellogg's Child As Designer"
Rachel Larimore — "Nature-Based Preschool Today"
Peg Oliveira — "The Witness, Not the Judge: Inspiring Wonder in Child Observation with The Gesell Institute of Child Development"
Cathy Topal / Lella Gandini — "Beautiful Stuff from Nature"
Tucker Viemeister — "Blocks = Prototyping: Tools for Young Designers"
Helge Wasmuth — "How Kindergarten Came to America"