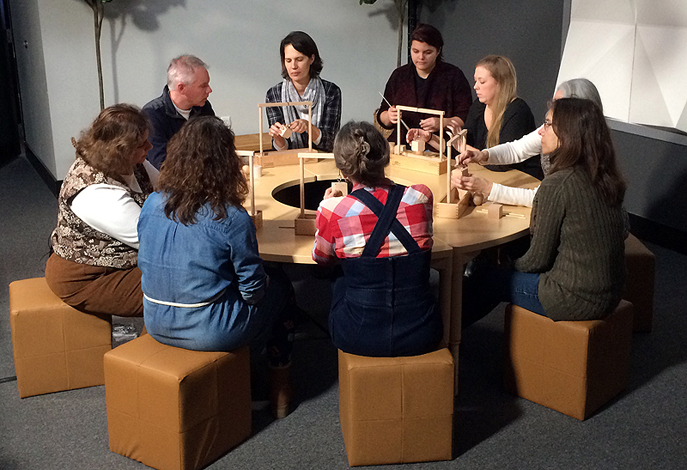 2017 Gift Play Day in Grand Rapids, MI
Our first Gift Play Day is November 18, 2017 in downtown Grand Rapids, MI. Attendees will take part in six consecutive hands-on exploration of a variety of Froebel Gifts & Occupations over the course of a full day (from 9AM to 5pm). Guided by trained teachers who use these methods/materials in public, independent, and home-school K-12 classrooms, attendees will experience traditional Gift Play and debrief the teacher after each session during a question and answer periods.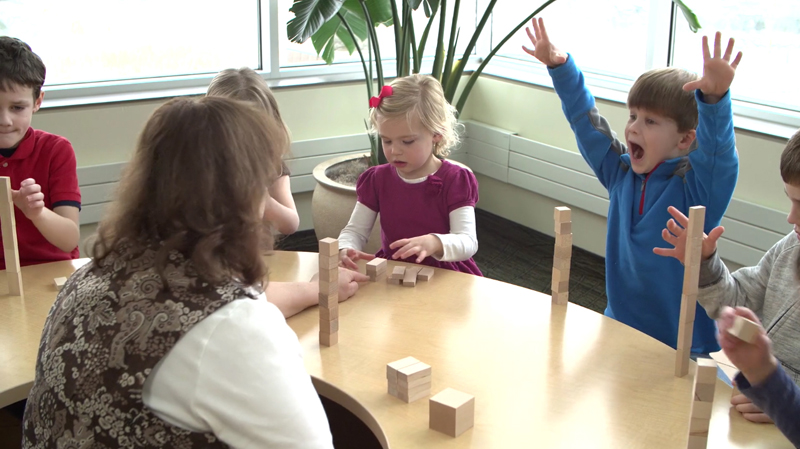 Opening Comments - 30min (9-9:20AM)
Julie Bennett
— 60min (9:30-10:30)
Froebel Gift 1
Engaging Pre-school Children in Early Math Activities with Play/Song
Participants will be actively engaged in song and movement while learning about various ways to use Gift 1 with pre-school learners. Each participant will develop a lesson based on the use of the Gift with other materials, such as nursery rhymes, traditional songs, etc. Each lesson will include integration of core curriculum for this particular age group. Specific objectives and formative assessments will be included within the lesson.
Tiffeni Goesel
—- 60min (10:40-11:40AM)
Froebel Gift 2
Tying Math, Science and History Curriculum Together through Play
Tiffeni will introduce participants briefly to the history of Gift Two's development. Then give an overview of Froebel's Forms of Life, Beauty, and Knowledge and Unity. This will be followed by sample Guided Gift Plays with Gift Two for each age group (toddler, Kindergarten, school child, teenager and adult) and by Free Play. Then a Unity lesson will tie it all together. Q & A will complete the lesson.
Scott Bultman
— 60min (11:50-12:50PM)
Froebel Gift 3
Developing Spatial Literacy with Collaborative Froebel Designs
A unique block play activity will be introduced to participants that explores symmetry and boosts spatial literacy in children of all ages/grade-levels.
LUNCH (not provided) - 50min (12:50-1:40p)
Stacey Wellman
— 60min (1:40-2:40PM)
Froebel Gift 4
Gift Play in the Modern Day Classroom
Participants will explore a series of Gift 4 activities including Forms of Life, Forms of Knowledge and Forms of Beauty. These demonstrations illustrate how to differentiate tasks based on student skills. Sample lessons and assessment tools will be provided to connect Gift Play activities to learning standards and classroom curriculums. Connections will be made to neurodevelopmental constructs allowing teachers to assess student-learning profiles during Gift Play.
Tiffeni Goesel
— 60min (2:50-3:50p)
Froebel Gift 5
Early Literacy through Blockplay: The Connecting Story
Gift Five, an expansion of Gift Three, is all about variety, patterns, phases, actions, the diversity of scenes, and the always alternating story. From the 'Once upon a time' of fairytales, the life lessons of fables, hero/heroine, tall tale, myth, legend, true account and biography, using Froebel's Gift Five to weave a story is playing with literacy. Which type of story is told depends on the phase of childhood.
Tiffeni will introduce participants through a Guided Story Play; then a Free Play with Gift Five as a Form of Life. Unity is brought together through a teacher-led or student-led Connecting Story. Ideas on how to further the lesson to encompass drawing, writing, and reading will be shared. Q & A will complete the lesson.
Scott Bultman
— 60min (4:00-5:00p)
Froebel Gift 6
Design Education & Design Thinking in Early Years
Participants will explore how group block play activities can engage students in a real-world problem-solving activity using a design challenge. Free play, followed by discussion, collaboration and refinement of the problem will lead the group to a final solution of the challenge. This process can be replicated throughout the K-12 grades.
Closing Comments (5:00-5:15PM)